Top 10 E-Commerce Sites in India for 2015
Everyone is familiar with the E-commerce sites which are growing faster now a day. It is the best option which inherently adhered in the market. This E-commerce site has been a roller coaster from the last decade. It is a fast growing online segment with a less capitation fee which has won numerous hearts of the marketers. These E-commerce sites are serving the needy with excellent strategies along with quality.
The origin of E-commerce sites has destroyed the business of the black marketers and won the confidence and trust of the individuals. Here are a few sites which list top in the market that serve the customers for their daily needs with quality.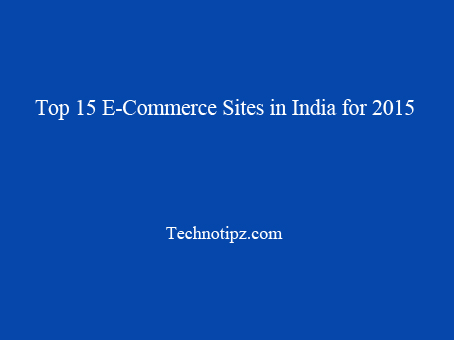 Flipkart
This E-commerce company was found by Sachin Bansal in the year 2007 from Bangalore. The company headquartered from Bangalore. In start, Flipkart started their business by concentrating on online sales for electronic goods and books. It is to mention that Flipkart accepts credit and debit card payments. The advantage of the brand is cash on delivery.
Jabong
Jabong one of the leading fashion e-commerce portal in India which deals with apparel, beauty products, apparel and footwear.
Myntra
Myntra is India's most wanted portal for lifestyle and fashion accessories. It has announced that Myntra is one of the leading portals which is ranked among the top list in the e-commerce portal. The portal was found by Mukesh Bansal and his friends in the year 2007. Ashutosh Lawania and Vineet Saxena are also part of Myntra who has worked on several portals.
Amazon
It is to mention here that Amazon had entered the e-commerce market in June 2013 and took over the top list in the e-commerce markets by its quality.
Snapdeal
Snapdeal is one of the leading portals which has its headquarters in New Delhi. The portal deals with all the accessories essential for the present life. This portal was owned by Kunal Bahl a graduate from IIT Delhi on alumnus in the year 2010.
Fashionandyou
This portal originated from Gurgaon, which is filled up with fashion collections found by Harish Bahl in the year 2009.
Homeshop18
Homeshop 18 is one of the on-air retail distribution network where the portal is supporting the needs of the customers online. It is the first online home shopping TV channel which performs round the clock.
Inkfruit
Inkfruit is an online t-shirt store voted by most of the people. Inkfruit established in the year Dec 2007. It is a Mumbai based portal found by Kashyap Dalal.
Babyoye
Babyoye is an e-commerce website which sales baby products. Babyoye provides all know of baby needs in their website.
Bagittoday
Bagittoday is an online shopping website which was launched by India Today Group in year 2009 at Noida. Bagittoday sells multi-brand and products in their online store.
The above are all the details about Top 10 E-Commerce Sites in India for 2015