Samsung Galaxy J7+ is now in the mobile market and has dual WhatsApp Support as well. Mobile users are always surprised by new offers and this one is also equally surprising. One would like to try this one out and see for oneself whether it is worthwhile spending the money spent on it. Why spend money on it? Well it consists of some interesting features such as :
Interesting features of Samsung Galaxy J7:
Samsung Galaxy J7+ consists of 32GB internal storage
Rear camera with a 13-megapixel and of course 5-megapixel sensor
It has dual-app feature, so one can run two of the WhatsApp instances
Capsule-shaped dual based camera setup located behind.
A full metal based body.
Can run 2 Whatsapp accounts.
Volume buttons are located on the left edge.
Power button situated on the right edge.
Gold, Black and Rose Gold color options
Samsung Galaxy J7+ has been officially declared over this weekend and is the latest addition of's series of smartphones. This new mobile smartphone came into focus on Thailand website putting forth several specifications. It is priced at THB 12,900 which is about Rs. 24,800, and was to be a market on September 15. The main feature of this smartphone is its dual camera setup located at the back and has a provision to the provision to run about two WhatsApp accounts simultaneously.
What is the design of Samsung J+?
Orders are coming for Samsung Galaxy J7+ and in Thailand, one can get Samsung U Flex wireless earphones which are worth THB 2,490 which is roughly about Rs. 4,800 free of cost. Aesthetic standards are being maintained and form part of "J" series with few changes being made here and there.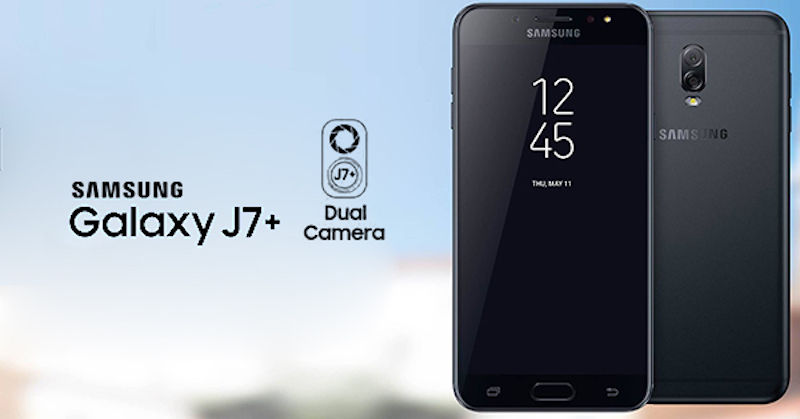 What are its specifications Samsung J7+?
It runs on Android Nougat and has dual-SIM slot
5.5-inch full-HD (1080×1920 pixels)
Super AMOLED display
4GB of RAM
Powered by a 2.4GHz Helio P20 octa-core processor
Internal storage is at 32GB
Can expand making use of a micro SD slot(up to 256GB)
LED flash support
f/1.7 aperture
5-megapixel sensor
f/1.9 aperture
Live focus feature on the back of the smartphone
blurs the real-time background
3000mAh battery
Connectivity that includes Wi-Fi, $G LTE, Bluetooth and so forth.
Measures about 152.4×74.7×7.9mm
Multi-Window support.
Conclusion
Indeed Samsung J7+ is the valuable smartphone to possess and one must try it out and see for oneself its effectiveness. Soon to be available, it is worth the wait. Mobile users are always eager to try out new smartphone as they like to spend on a gadget which they feel will serve their purpose. There are many smartphones in the market but Samsung has never let you down and even this new mobile phone it is introducing will be available with all its unique features. Have a go at it!