Top 10 Mobile Games Downloaded from Apple App Store in 2014
Apple is one of the smartphones that has won many customers heart along with their best quality apps and successful market stability. It's also known that Apple apps are most wanted apps in the market with excellent quality. The users download More than 65 billion total apps from Apple store.
Statistics clears the confusion of the customers by stating that Apple store has crossed 50 billion stores in the month of May. Sales of the Apple stores confirm that the statistics shown worthily. Let's have a look on the Apple Apps and its details in a brief.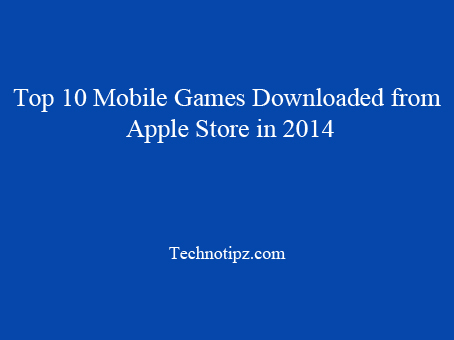 Fun Run 2
Fun Run is a back to back extreme lovable game released in the year 2014 on December 3rd. This game is cutest and furriest game which has lots of swag from the forest. It is a real multiplayer game best for the smartphone or Tablet. Speciality of this game players can be four and can play from any part of the world.
Marvel Contest of Champions
It is another game which is graphically designed and released on December 12th this year. This game has specifications such as it has heroes and villains jumped out from comic books. Imitations and mannerisms in this app attract the youngsters a lot. This game is available in 9 languages.
Candy Crush Soda Saga
It is a sodalicious game which is a brand new game from the makers of Candy Crush Saga. In this game, the end user has to break the candies of the same colour which are 3 in number or more than three. This game has 140 levels of sugarshell cove.
Crossy Road- Endless Arcade Hopper
This app has countless Arcade Hopper, which is best suitable for iPhone, and it is a universal app which has 4 rating.
Amazing Pong
This app is amazing as per the name itself which was released on 6th October this year. All balls bouncing inside the wheel should keep on one paddle.
Amazing Ninja
It is a skilful game where one should goal to kill all the red ninjas and should save the blue ones. This app was released on 3rd December this year.
Peggle Blast
It Is another app released this year on 2nd December, which is easy to access. All to do is one should bring all the Peggle Masters and score peg popping challenges.
Dumb ways to Die 2: The Games
This game specially made with the a set of dumb characters released on 18th November this year.
Asphalt 8: Airborne
 FIFA 14
The above are the Top 10 Mobile Games Downloaded from Apple Store in 2014