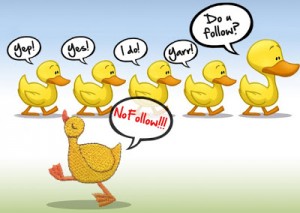 Backlinks it's as a very high priority in SEO. Backlinks are the Incoming links to a website or blog. Backlinks are also called as Inbound links, External links, Inward links, Links and etc. Backlinks play a very important role in the Search Engine Optimization they specially use for Page Rank. Dofollow backlinks are more important than Nofollow backlinks. Today I will explain you the different between dofollow and nofollow backlinks.
Types of Backlinks: 
There are two types of backlinks. These are:
Dofollow

Backlink
Nofollow Backlink.
1. Dofollow Backlinks:
Backlinks are the most powerful links which influence by Search
Engi
nes to get you High Page Rank. When Search Engine Crawlers (Robots)(Bots) crawl the webpages which includes images, links, keywords and etc. Whenever crawlers find a link and it will be a dofollow link then the crawlers follow that link and land on the website related to that link. If you want top in search engine and high page rank then you focus on getting dofollow backlinks. If you get more dofolow links your search engine visibility and page rank will increase.
In simple words dofollow links can see by User and also Crawlers (Robots) (Bots)
2. Nofollow Backlinks:
Nofollow links will use to get more traffic to your website and which have a potential to generate high referral traffic for your website. This nofollow backlinks are ignored by the Search Engine Crawlers (Robots) (Bots). If you link a website and which showing asnofollow link them for that link you only get traffic but not a benefit of Search Engine Listor or Pagerank. You also also make your external links into nofollow by using this value  rel="nofollow" attribute in your html code. You can make all your external links into nofollow by using this meta tag in your website header.
<meta name="robots" content="nofollow" />
In simple words nofollow links can visible to users and not visible for Crawlers (Robots) (Bots)
Advantages of Dofollow links

Do-follow links increase your Pagerank.
Your site

visiblemore

in search engine.
It will treat as more valuable backlink for your website or blog.
Your website has become popular automatic .
Disadvantages of Dofollow links

If your site links with more external links with dofollow your rank will decrease.
Making all external links into nofollow will good.
Link juice will be distributed on all other outbound links
 Advantages of Nofollow links:
You can reduce spam comment on your website
Only few people post comments.
It's save your time and your ranking.
Your comment links will not take place in your link juice section.
Create more traffic for your website
Disadvantages of Nofollow Blogs:
Disadvantages of Nofollow links:
Less Traffic
Less Pagerank
In case you're planning to get high page rank then you need to build only dofollow links to your website because nofollow links are ignored by Crawlers (Robots) (Bots) but budilingnofollow links will increase your traffic but not website rank.