Samsung's Tizen Z1 smartphone, sells about 55k units
Sustained by the market response to its Tizen Operating system based smartphone in India, tech giant, Samsung plans to produce the Z1 at its Noida facility soon.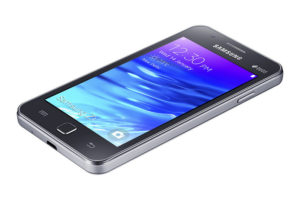 Samsung's Tizen Z1 smartphone, sells about 55k units
The South Korean firm, which is the worlds' largest smartphone player, had launched the device an earlier this month in India.
Samsung India vice president marketing (Mobile & IT) Asim Warsi told PT that the convincing proposition of an easy to use & confusion free interface of Z1, along with premium design has met a wide consumer acceptance.The Z1 would be manufactured in companys' Noida plant in UP.
The Noida facility has capacity of producing over a four million mobile phones per month and manufactures both affordable and high end devices here. India is the first market across the world, where the Z1 was launched at Rs 5,700, targeted at first time smartphone buyers.
Warsi said that the phone will soon be launched in Bangladesh. According to an industry sources, Samsung has sold about 50,000 to 55,000 units of Z1 since the launch on January 14.
Currently, only few devices, including Samsungs' smartwatch products run on the Tizen platform. A majority of Samsungs' mobile phones are based on Android, which is also the dominant operating system on most of smartphones across the world.
Samsung developed the Tizen with Huawei and Intel to challenge the Android software that powers most of the worlds' mobile devices. It had, on several occasions last year, tried to launch Tizen smartphone in Japan, Russia, France, and India but every time balked at the last minute citing lack of support from carriers and app developers.
One of its most affordable smartphones, the Z1 has Samsung offering localized entertainment apps and simple user interface with the Tizen operating system.
Specifications :
The dual SIM device is powered by 1.2GHz dual core processor,
768 MB RAM and 4GB internal memory expandable up to 64GB.
It features 4 inch display, 3.1MP rear and VGA front camera and 1,500mAh battery.
The device was showcased at Tizen Developer Conference in 'San Francisco' last year.
Previously, Samsung ran Bada operating system, which did not see much success. It has since been working on merging the platform with Tizen, which is sponsored by chip maker Intel.
The other famous operating systems include Apple iOS, Microsoft's Windows Phone OS and BlackBerry's proprietary platform.
Photo credit: samsungtomorrow / Foter / CC BY-NC-SA
Samsung Z1 sales have improved on all expectations in highly competitive and a violently fought price segment, which offers a consumers the widest choice. We are also witnessing important usage of the entertainment package with consumers downloading music and enjoying free movies and live TV.
Samsung's Tizen Z1 smartphone, sells about 55k units