Upcoming Smart Phones in 2015
Everyone is familiar that 2014 is coming to an end in a few days and we are on the way to welcome 2015 with heaps of happiness. Today's trend in the daily routine is based on smartphones. Many new brands are available to the customers as a new year's choice. Here are a few details for you folks who are interested to buy a new phone of 2015.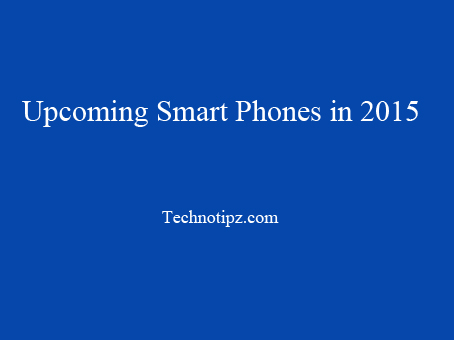 In this year a big collection of smartphones was ruling based on the customers wish and their appetite. Many smartphones have been very exciting this year and it is also heard that more models are going to be launched in the New Year i.e. on 2015.
It is heard that 2015 will be a feast to the smartphone lovers as various companies are going to launch a brand new phones in the year 2015. Let us know about a few models which are going to release in the market as a New Year's surprise.
iPhone 6s:
Everyone is familiar that iPhone 6 and the advanced version of iPhone 6 is none other than iPhone 6 Plus had a blast in the market after their release. The latest version of this model is iPhone 6s, which grabs the attention of the mobile users with its specifications.
Samsung:
Hope the New Year is exciting to the mobile freaks who love to have various mobile models in Samsung brand. It is already announced that Samsung's Galaxy and note has raised the excitement levels of the mobile users. Now Samsung's another two new smartphones are in the pipeline as a New Year's gift to gadget lovers. They are nothing but Samsung Galaxy E7 and Galaxy A7.
Samsung E5 will sport display of 8 megapixel rear camera, 5 inch 720p display. While Galaxy E7 has 5.5 inch 720p display and a 13-megapixel rear camera. Coming to the battery specifications E5 has 2300mAh battery, Galaxy E7 2950mAh battery.
HTC One M9:
This is another brand available in the market with high competition. Now HTC's another model is going to be launched into the market as a New Year's gift. It is none other than HTC One M9. Let's have a glance on the specifications of the model. This gadget has a 5.2 inch screen with 2.5GHz Snapdragon 805 processor. The resolution of the gadget is 1440*2560 and android 5.0 is pre-installed as per belief.
So it's time for folks to decide which mobile to choose according to the usage and their individual taste. Upcoming Smart Phones in 2015