About Motorola Moto G, 5 reasons to buy MOTO G and it's Specifications
Moto G is latest phone from Motorola which is said to be launched in Britain, France and Germany. It has two variants 8GB and 16 GB.  Moto G Google Play edition is present on the US Play Store. This global smartphone from Motorola is going to be launched in February 10th.
The cost of this Motorola Moto G 8GB variant is $179 and 16GB version is $199.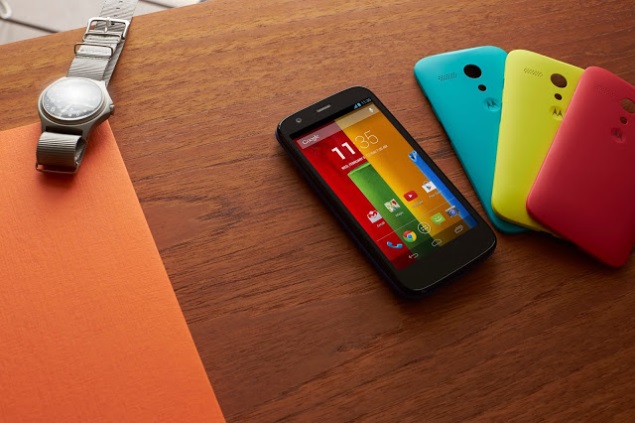 Motorola Moto G Specifications
Dimensions of this are 129.90 x 65.90 x 11.60 and weighs about 143 grams. It has a removable battery with 2070 mAh Battery capacity.
It comprises of a 4.5 inch capacitive touch screen display with 720×1280 pixels screen resolutions and 329 PPI
Hardware components of Moto G are its  1.2GHz  quad-core Qualcomm Snapdragon 400 Processor, 1 GB of RAM, 8GB of internal memory. It has fantastic camera options that is 5 MP rear camera and 1.3 MP front camera.
It works on Android 4.3 OS and supports softwares such as Java. Moto G has various connectivity options such as Wi-Fi, GPS, Bluetooth.
This gadget has 3.5mm Headphone jack, FM, Micro -USB. One of the interesting news about this phone is it is a dual SIM one.
It includes various sensors such as Proximity sensor, Compass/ Magnetometer        and Accelerometer.
5 reasons to buy Motorola Moto G
1. Excellent Pricing
Moto G is one particular gadget which is popularly known as a good quality device that comes for a affordable price. It includes a curved black design and rubberized matte finish body at such an affordable price.
2. Superb Screen
It includes compact dimensions and sharp screen with similar pixel density of iPad mini retina and iPhone 5S.
3. Excellent OS Performance That Delivers Faster Updates
This gadget would possess the most recent version of Android 4.4.2 OS
4. Splash Resistance
Motorola offers splash resistant screen which protects from splash of water and rain drops.
5. Brilliant Gaming Experience
Moto G gadget offers brilliant gaming experience that offers medium to high end games in Play Store.
Motorola Moto G has many worth buying features which gives 100% justice to the money spent on it.