Evolution in technology is never-ending. One comes across several new updates be it 8GB RAM, Dual Cameras, Wireless Charging etc. which compete in the mobile market. In January 2018 you will find smartphones from top manufacturers such as Apple, Motorola, Samsung, Panasonic, Sony, OnePlus, Lenovo, Xiaomi ruling the market with best of features and specifications and reasonably priced as well. Thus, it becomes equally important for the users to select best from all. Other offers are iPhone 8 and 8 Plus, Samsung J2 Pro, Google Pixel 2XL, Google Pixel 2 as well as featured phones such as OnePlus 5, Sony Xperia XZ, iPhone SE, Vivo V7+.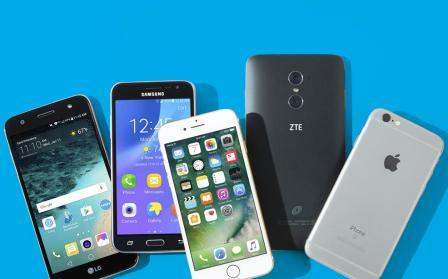 LATEST MOBILES:
Micromax Bharat 3 Rs. 4,505, Nokia 2(Pewter/Black) Rs. 6,899, Samsung Galaxy c7 Pro(64GB,Blue) Rs.24,900, Apple Phone X (64 GB space Grey, Honor 8 sapphire blue Rs .16,799, Xiaomi Redmi Note 4 32gb,(4 GB RAM) Rs 18, 590/-, Honor 8 Lite (4GB Ram)(64GB, Blue rs.15,299
Samsung best deals:
Samsung J7 & Max (Gold), Samsung Galaxy J7-6 Rs. 15,300, Samsung Galaxy S8 Plus Rs 58,900, Samsung Prime J7 ( Rs.16,999)
Apple Phone 6 (32 GB, Gold) Rs 26, 507, Apple Phone 6 (32GB,Space Grey), Apple iPhone 7(256GB) Jet Black Rs. 61,100, Apple iPhone 5 s(16GB, Silver) Rs. 21,799
Tablet bestsellers:
Apple 12.9 inch iPad Pro Wi-Fi 2nd Gen Rs. 93,200 Apple iPad 9.7 inch Rs. 47,991
Apple iPod Pro 10.5 inch Wifi ( Rose, Gold, 25 6 GB
Upcoming mobile phones:
Samsung Galaxy Note 8 Maple gold
Reach Cogent Colours, blue
Intex Cloud Power Plus, black Champagne
Xolo Era HD, black
India's Latest Mobile Phones
Every day we are exposed to new mobile phones which arrive in the market. New technological mobile innovations are very attractive and customers have much to choose from. After all, competition is tough and every mobile phone has to come up with its own set of features and specifications that would attract the customers. With so many choices to choose from it is rather difficult and confusing for mobile users to select a mobile that suits their budget and taste
Most recent additions:
Xiaomi Redmi 5A, Vivo V7 Plus, Gionee A1 Plus, Samsung Galaxy J7 Plus Apple, iPhone 8, Vivo X9 Nokia 8, Sony Xperia L1 Apple iPhone X, Samsung Galaxy Note 8, Samsung Galaxy C7, Xiaomi Redmi Pro 2, Google Pixel 2 XL, Google Pixel 2, Samsung Galaxy A3 2017, Sony Xperia L1, Xiaomi Mi MIX 2 etc.
Be Smart, Be Updated – Latest Smartphones
Smartphones have become part and parcel of our daily operations and we cannot do without them. The demand for these smartphones is ever on the increase and the mobile users are always on the lookout for newer versions. Even the companies are geared towards meeting this ever growing demand of mobile users for new innovations in the arena of mobile phones. Most of these gadgets are now user-friendly phones. It is expected that the number of mobile consumers will triple within a span of few years and naturally there would be much increase in mobile subscribers.
The Latest Additions in Mobile Phones For January 2018:
Apple, Motorola, Sony, Oneplus, Samsung, LYF, VIVO, Gionee, Lenovo & Micromax all these are available in the mobile stores and definitely, a mobile user's choice has become wider. It is important to ensure that customers are satisfied in many ways.
Great Deals -Budget-friendly
Reasonably priced and newer versions of technological applications have made this new version of the mobile phone very saleable. The users will definitely gain much by using them. The focus is on specifications, new features, design and the price of the latest mobile phone. It is indeed an accepted common trait among customers to opt for mobile phones which are unique in many ways. The other factors which these users show much interest are the battery life, RAM, and storage capacity.