The smartphone technology has come a long way with new innovations. Mobile users have had access to the numerable number of smartphones and they have been able to choose one they like the most.
Number of newly released smartphones from several major mobile phone brands such as Samsung, Micromax, Lenovo, Apple, Motorola, Sony, Panasonic, LeEco, LG, Xiaomi, Gionee, OnePlus, Vivo, Oppo and many more have been made available for you in the year 2017 and many more are in the offing for 2018. A perfect fit indeed for your taste and budget. All the of the latest smartphones are available in the mobile market that is well equipped having interesting features and several specifications.
Much information is available so that one can purchase this mobile phone at a lower price and thus get a maximum value for their price. Latest prices are updated along with latest versions. One can have accesses to trustworthy brands.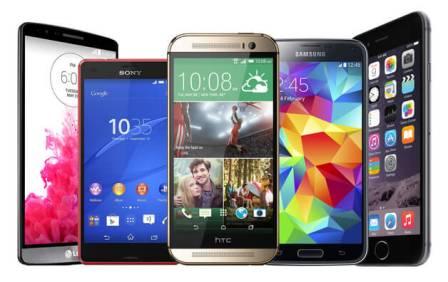 New Cum Latest Mobile Phones in India:
Here is the complete list of all popular mobile phones and smartphones with their respective prices that are available online in India and the latest mobile phones that have been launched in India has been in 2017. Newer versions of mobile phone models are launched quite frequently and this list has also been updated daily.
Nokia 2:
RELEASED IN Nov'17
Android v7.1.1 (Nougat)
1.3 GHz Quad-Core
4100 mAh Battery
1 GB RAM
8 MP Rear Camera
8 GB Storage
5.0″ (12.7 cm) Display
5 MP Front Camera
Dual SIM
No Quick Charging
Price: Rs 6,579
Honor 9i:
RELEASED IN Oct'17
Android v7.0 (Nougat)
4 GB RAM
2.36 GHz Octa Core
64 GB Storage
5.9″ (14.99 cm) Display
3340 mAh Battery
16 MP Rear Camera
No Quick Charging
13 MP Front Camera
VoLTE, Dual SIM
Price: Rs 17,999
Oppo F5:
RELEASED IN Nov'17
Android v7.1 (Nougat)
2.5 GHz Tru-Octa Core
4 GB RAM
32 GB Storage
6.0″ (15.24 cm) Display
3200 mAh Battery
16 MP Rear Camera
20 MP Front Camera
VoLTE, Dual SIM
No Quick Charging
Price: Rs.19,890
Xiaomi Redmi Y1 Lite:
RELEASED IN Nov'17
Android v7.1.2 (Nougat)
1.4 GHz Quad-Core
2 GB RAM
16 GB Storage
5.5″ (13.97 cm) Display
3080 mAh Battery
5 MP Front Camera
13 MP Rear Camera
VoLTE, Dual SIM
No Quick Charging
Price: Rs. 6,999
Xiaomi Redmi Y1:
RELEASED IN Nov'17
Android v7.1.2 (Nougat)
1.4 GHz Tru-Octa Core
4 GB RAM
3080 mAh Battery
64 GB Storage
5.5″ (13.97 cm) Display
3080 mAh Battery
VoLTE, Dual SIM
13 MP Rear Camera
16 MP Front Camera
No Quick Charging
Price: Rs. 10,999
Nokia 8:
RELEASED IN Oct'17
Android v7.1.1 (Nougat)
2.45 GHz Octa Core
4 GB RAM
3090 mAh Battery
64 GB Storage
5.3″ (13.46 cm) Display
13 MP Front Camera
13 MP Rear Camera
VoLTE, Dual SIM
Quick Charging
Price: Rs. 32,325