Sony brought into limelight the Xperia XA2, Xperia XA2 Ultra and Xperia L2 smartphones at the Consumer Electronics Show (CES) this year. However, the price as well as the availability of the smartphones are indeed kept concealed. In an official statement, Sony has indeed reveled much of these details that also aimed at the US market.
The Sony Xperia XA2 and Xperia XA2 Ultra will also be available starting February 16 onwards in the US.
Price:
While the Xperia XA2 will also be priced at $349.99 (Rs 23,000 approximately), the Xperia XA2 Ultra does set one back by $449.99 (Rs 28,500 approximately).
The Sony Xperia L2, on the other hand, will also be available earlier, starting February 9, and will be actually be priced at $249.99 (Rs 16,000 approximately). These smartphones will also be available on Amazon and BestBuy starting February 16. In-store availability, however, is March 4, and will be shelved of a best buy as well as other offline retailers.
Sony Xperia XA2 specifications, features:
The Sony Xperia XA2 does also feature a 5.2-inch display with full HD (1920×1080 pixels) resolution.
Under the hood, it is powered by a Qualcomm Snapdragon 630 chipset, paired with 3GB of RAM and 32GB of internal storage, which is further expandable up to
256GB via microSD card.
For photography, it sports a 23-megapixel rear camera and an 8-megapixel front camera with ultra-wide fixed-focus lens with 120-degree field-of-view.
It is fuelled by a 3,000mAh battery. On the software front, it runs Android 8.0 Oreo running out-of-the-box.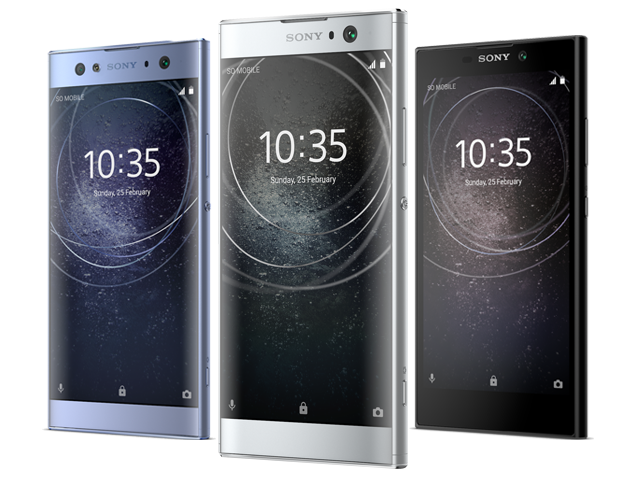 Sony Xperia XA2 Ultra specifications, features:
The Sony Xperia XA2 Ultra is also well equipped with a 6-inch full HD display, and does include the same chipset as the Xperia XA2 with 4GB of RAM, and 64GB of internal storage which is again expandable up to 256GB via microSD card.
The Xperia XA2 Ultra comes with a dual-camera setup on the front with the same 8-megapixel ultra-wide sensor as the Xperia A2 along with an additional 16-megapixel sensor.
It includes the same 23-megapixel rear camera with f/2.0 aperture as the Xperia XA2.
It is also fuelled by a larger 3,580mAh battery. Other features include rear fingerprint sensors, USB Type-C support, and Android 8.0 Oreo running out-of-the-
box.
Sony Xperia L2 specifications:
The Sony Xperia L2 is said to be an entry-level device.
It also features a 5.5-inch HD display, but on the other hand, runs the same Qualcomm Snapdragon 630 SoC as the other two models with 3GB of RAM and 32GB of
internal storage, further expandable up to 256GB via microSD card.
In the photography department, there's a 13-megapixel rear camera along with an 8-megapixel ultra-wide-angle front sensor for 120-degree field-of-view.
The Xperia L2 is fuelled by a 3,300mAh battery. On the software front, it runs Android 7.1.1 Nougat out-of-the-box.
Other features include USB Type-C support, rear fingerprint sensor, and 4K video recording capabilities