Monetizing  Website is a naot myth that one can make money from a website, After all, those who are into website business would like to have profits pour in. How can this be achieved?
Normally, one undertakes website work as a hobby but soon realizes that one can make money out of it. Some luck and hard work are all that is required. One should be able to cover for their domain and hosting expenses and also get additional income.
The strategies to make money are passive as well as easy and can follow guidelines that suit their style of operations.
Here are few suggestions that would enable you to focus on website profiteering: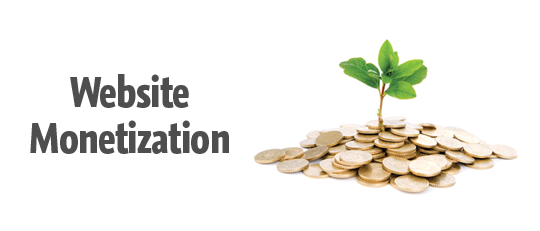 How to monetize your website?
Find yourself a product which you are able to market and finds ways and means to promote it. Endorse the product and promote it on email subscribers list as well on the website visitors promotional gamut. The person interested will click on your affiliate link. The commission received can range from 30 to 70%. Search for your products on ShareASale, Commission Junction, Clickbank and so forth.
Google AdSense is a way to make money or one can sell pages to consumers directly. Clients are searching on blogs for required information that would enhance their business. One can go in for side banner ads and charge for space. The payment is made depending upon the number of visitors who will come to the site. Can you imagine if the clicks are about 100,000 a month you will earn $500 It is worth the try If your traffic hikes up you can earn $5000 dollars per month WOW! Sounds exciting, doesn't it?
Pay per Click Advertisements ( Google AdSense):
AdWords are ads that come up on Google searches and AdSense is reverse as it allows publishers including bloggers as well website owners to tap tremendous networking scope on Google to allow other advertisers to be able to place their ads on their respective website. The content is identified and then ads are displayed accordingly, thus fetching revenue.
Selling of own digital product:
One can make money on per sale basis, by selling directly. There is no middle man involved in the sale. No one takes a cut from your profit. It is a rather straightforward method of dealing and one sells products directly on the website. One must create good content and designs in order to sell.
Accepting donations for visitors:
In case one is lacking in traffic one can rely on one's community build -up and get donations for their work There is much wealth to get from donations. Donation buttons are available via Pay Pal which one can click away easily.
Accepting sponsored posts cum articles:
Reviews and article can be carried that have been displayed on other websites. One can increase one's traffic by allowing articles from other websites appearing on one's websites. It is a complementary arrangement.
Building up of Email List:
Build up the list of your readers who will know that your website is doing well. This list will comprise of your most loyal readers. One must try to convert strangers visiting one's website into loyal readers
Making money is certainly a way of handling one's website business. It is a good past time, but in-flow of money does help in building up the website.