Startup Investment in India for the Year 2014
Investments in India are ever-growing to compete the daily routine. E-commerce is a ride on a roller coaster in which individuals are confused to judge. Let us remember that E-commerce has been in boom from last decade. This had been on the pedestal from the year 2011 which is growing wider in consolidation. Here are a few details about the start-up investments in India, which are whopping now-a-days with curiosity.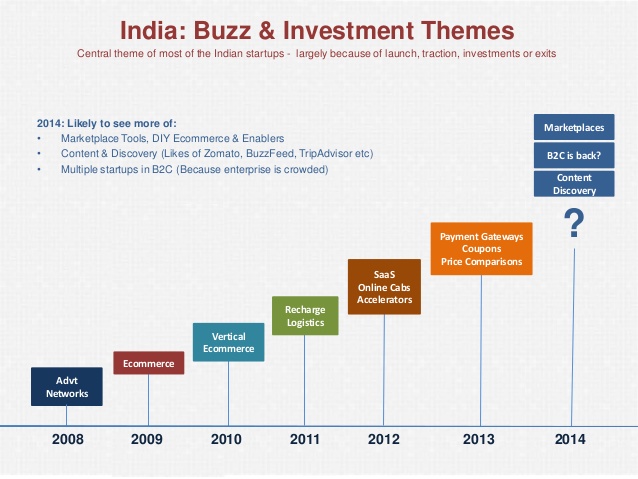 Image Source:- http://image.slidesharecdn.com/2014-indiastartuplandscape-140120085249-phpapp02/95/2014-india-startup-landscape-4-638.jpg?cb=1390242762
Image Credits:- Slideshare.com
There are many E-commerce websites like Amazon, Snapdeal, Flipkart and Myntra. Firstcry and Urbanladder are another few sites which have also seen the limelight. Most startup investments in India are growing faster according to the individuals need. Startup investments are driven by the people with their initiative, values and beliefs. Most of the individuals prefer to start-up investment in India to engage the individuals with ease.
Start-up investments are winning the heart of the marketers which are designed to engage the customers. These ventures are built on excellent ideas which are path-breaking and excellent services. The internet penetration is improving each and every day with a greater percentage. The investors are eyeing on the Indian markets where there are marketer's expectations. There are many ways in developing socio-economic growth where marketers are ready to invest.
To know more about the start-up investments in India Incubator plays a vital role. The Incubator is nothing but an organization which shows the best way to the start-up investors. These start-up accesses a big blast of benefits which are expertise in the networking markets. Before starting a new business one should approach incubator who shows the way to the start-up companies.
There are many start-up companies who are grouped in this present generation. The period of incubation for start-up companies is from 18 to 24 months. There are a few companies listed under the group. They are an Indian Angel Network, iCreate, angelprime, Khosla labs, UnLtd India and AngelPrime. In addition to the list Startup Village, Villgro, Srijan Capital and Venture Center occupied the top place in the list of start-up investments in India.
It is to be mentioned that in 2014 funding is tougher for the start-up investments as there is demand and optimistic supply. This start-up has become a trend setter to all the new investors in the Indian markets in the year. Most of the businessman is curious to grow their career in the market as they support to raise their funds and make their identity. This is the best option for most of the start-up companies which need to bootstrapping.
The above are the Startup Investment in India for the Year 2014