Microsoft has launched Nokia Lumia 530 in India for Rs 7349
Microsoft has launched Nokia Lumia 530 another dual SIM mobile in India for Rs 7349 in colors of green, white, orange and gray. As we know that Microsoft is working hard for the past few weeks, the company is finding it really very hard to let it go for the Nokia Branding, the Microsoft is releasing and developing more and more Lumia mobiles with Windows OS.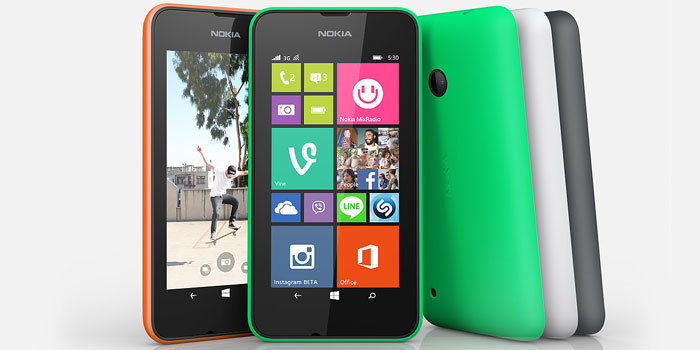 As Microsoft announced before that they will bring Lumia price to Rs 5000 in India when they purchased a Nokia for fancy price, Nokia Lumia 530 is one another step from the company that they sell 630 for less than Rs 7500. This is the first low mobile from Microsoft owned Nokia in Lumia Models.
This latest Smartphone has a 5MP camera, 4GB of Internal storage and Windows Phone 8.1 OS with Ram of 512MB. Microsoft expects that this mobile will give good competition for the mobile in the same range like Moto E, Samsung and etc. It is the successor of Lumia 520 and has improved couple of things in it. The Lumia 530 has higher 854 x 480p resolution touch screen and more expandable storage and quad core chip.
Nokia Lumia 530 key specifications and features
– Platform: Windows Phone 8.1 OS Updated Version
– Screen: 4-inch FWVGA display
– Chip: 1.2GHz quad core Snapdragon 200 processors
– Memory: 4GB internal storage memory, 512MB RAM
– MicroSD card: 128GB expandability support
– Camera: 5MP rare camera
– Dual SIM support
– Millimeter: 119.7 x 62.3 x 11.7 millimeters
– Weight: 129 grams
– Battery: 1430mAh, 10 hours 3G talk time
The above are the some details about Microsoft has launched Nokia Lumia 530 in India for Rs 7349
Nokia Lumia 530 Price in India – Rs 7349/-